Syneron eMax Laser Machine For Sale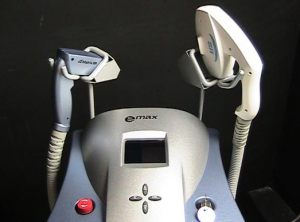 This Syneron eMax Laser system is in excellent condition as it has never been used – still in the box.
While there may not be a cosmetic workstation that can perform every single cosmetic procedure being offered today, the Syneron eMax laser machine comes very close. Powered by Syneron's elos technology that harnesses the power of radio frequency and laser or light optical energy, the Syneron eMax laser machine can pretty much do it all – and it can do it faster and more effectively than comparable systems.
Safety is an important issue to both cosmetic service providers and patients, and that's part of what makes the Syneron eMax laser system so popular. This model has achieved exceptional results in this area because the elos technology uses less energy than traditional methods, which means greater patient comfort and satisfaction.
Syneron eMax Laser Machine Applications:
Acne treatment
Laser hair removal
Pigmented lesions
Leg veins
Facial veins
Wrinkle reduction
Fractional laser
Skin tightening
Skin rejuvenation
Syneron eMax Laser Equipment Features:
Exclusive elos technology
Wavelength: 400 nm – 2000 nm depending on handpiece
Repetition rate of up to 2 Hz
Weight: 77 lbs.
Dimensions: 18″ x 17″ x 40″
Power supply: Standard 110 VAC (230 VAC)
Syneron eMax Laser Pricing Details
Year of Make: 2007
Condition: Never used except for testing
Model: Syneron eMax
Actual shot-count: 45
Handpieces included:
Original price: $65,000
Our price:

Call for details – 

888-875-7001

Warranty: 90 day service
Available option:

12 month limited warranty
The Syneron eMax laser machine is the only system that most cosmetic businesses will need, but that doesn't mean you should pay too much for it. At SunrayLaser.com, we can offer a used Syneron eMax laser machine for sale at the lowest price possible, often as much as 60% off the original retail price.

Not only do we strive to provide the lowest price on a pre-owned Syneron eMax laser system, but we stand behind what we sell with a 100% satisfaction guarantee. We also have a professional customer service team ready to answer any of your questions or provide a Syneron eMax laser machine price quote with no obligation.

ss