Syneron VelaSmooth Laser Machine For Sale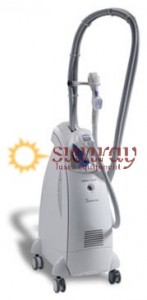 Syneron's VelaSmooth was the first Class II medical device cleared by the U.S. Food and Drug Administration for cellulite reduction. The VelaSmooth remains an international leader among non-invasive medical solutions for the elimination of cellulite. Studies show that as much as 80 percent of women over 20 have cellulite; VelaSmooth broke ground with its ability to safely eliminate cellulite, restore the natural smoothness of the skin and contour lumps, bulges and other lipodystrophies.
VelaSmooth relies on Syneron's proprietary elōs™, a combination of gentle light and bi-polar radiofrequency energy. Mechanical rollers and vacuum suction manipulate the cellulite and enhance the blood circulation within the treatment area. The process prepares the area to receive the elōs™ treatment.
The application of optical energy and heat-generating radiofrequency boosts the metabolism of local fat and simultaneously reduces the size of the fat cells. The process transforms and rejuvenates the body surface, restoring the skin to a state of minimized dimpling, folding and wrinkling.
Syneron's elōs™ treatment is appropriate for any skin color and tanned skin poses no treatment problem. Neither VelaSmooth's light nor its radiofrequency energies cause long-term health hazards.
Syneron VelaSmooth Applications:
Non-invasive cellulite reduction
Body contouring
Skin tightening
Syneron VelaSmooth Features:
CE mark
Radiofrequency: up to 35W
Infrared lamp: up to 35W
Light spectrum: 700 – 2000 nm
Treatment applicator
Weight: 60 pounds
Dimensions: 36 inches wide by 55 inches deep by 31.5 inches high
Power: 100-230VAC, 50/60Hz, single phase
SunrayLaser.com is pleased to carry products manufactured by Syneron Medical, the developer of the groundbreaking, combined-energy medical aesthetic devices featuring elōs™ technology. VelaSmooth won the juried Prestige Pierantoni Innovation Award in 2008 for devices deemed ready to transform the practice of medical aesthetics.

The expert technicians working with SunrayLaser.com systematically refurbish each Syneron VelaSmooth unit in our inventory, assuring that your device will operate according to the rigid safety specifications set by the manufacturer.

Our trained aesthetic device consultants are always happy to discuss how the Syneron VelaSmooth can extend the range of your aesthetic therapies. After you fill in the short form below, a knowledgeable specialist will make contact quickly, and be able to provide a price quote without further obligation.

ss