Altair NewApeel Aesthetic Exfoliation System for Sale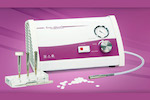 The NewApeel Aesthetic Exfoliation System from Altair Instruments offers completely safe, non-invasive skin resurfacing treatments that deliver outstanding results.  Through NewApeel's patented wand delivery system, powerful micro exfoliation gently removes the top layer of skin without harming or damaging the layers below.  The result is skin that is smoother, younger looking and more vibrant, without the use of harsh abrasives or cosmetic surgery.
The NewApeel system also works to stimulate circulation in order to help skin reveal that healthy, youthful glow that today's cosmetic patients are looking for. The New Apeel  can be safely used on many different areas of the body without the annoying redness or irritation that many other types of treatments can cause and can also be safely combined with other cosmetic treatments for the highest level of anti aging skincare results.  It also features a small, compact design that fits in easily with other cosmetic equipment.
The NewApeel system comes with 4 patented DiamondTome wands, including an easy to use body contouring wand for the most precise skincare treatments.  The system can be used safely on many different areas of the body, including on the face, neck, chest, hands, feet, back and even the elbows.  For younger looking skin and a healthy glow, the NewApeel is a great choice that gets results.  As an added benefit to smaller practices with limited space, the unit is also small enough to be safely stored when not in use and cleans up easily after each treatment.
NewApeel Applications:
NewApeel Features:
4 DiamondTome Wands
1 Fine & 1 Medium Tip
Contoured body wand
4 tube sets for use with single use filter discs
Combo HEPA filtration system
Autoclavable brass brush
Hospital grade power cord
Dimensions: 15.5" x 11" x 8"
Weight: 32.5 lbs
Interested in adding the Altair NewApeel to your practice?  The NewApeel Aesthetic Exfoliation System is the perfect addition to any busy cosmetic practice looking to expand its service offerings to include safe and effective anti-aging treatments.  SunrayLaser.com has amazing deals on used Altair NewApeel skin resurfacing systems with savings that are up to 60% off the original price! See for yourself how much you can save on high quality skin resurfacing equipment like the NewApeel system and used laser equipment when you buy from SunrayLaser.com.

If you are looking for pricing information on a pre-owned NewApeel system, fill out the contact form below and we'll send you a free, no obligation quote.

ss