Altair Hydro Wand Kit for Sale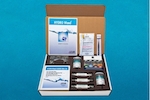 The Hydro Wand Kit from Altair Instruments is the perfect tool for applying skincare products after a skin resurfacing procedure.  The Hydro Wand is a multi-purpose tool that enhances common skin resurfacing procedures through the delivery of deeply moisturizing serums, lotions and vitamin-enriched products.  The perfect follow-up to professional skin exfoliation treatments, the easy to use tool allows clinicians to offer additional services and is affordable option for advanced skincare.
The Hydro Wand can be used with any other Altair cosmetic system by simply attaching the wand, tubing and the water canister to the main console.  The wand can be filled with different types of serums and products in order to deliver a variety of treatments after exfoliation.  As an added benefit for busy practices, the wand is also easy to clean and store when not in use.
Included in the Altair Hydro Wand Kit are two different tip configurations (12 mm and 19 mm), and three different surfaces (Smooth, Fine and Medium grit.)  The wand is perfect for a variety of skincare product applications and is gentle enough to be used after most skin rejuvenation procedures, including deep exfoliation treatments with Altair DiamondTome systems.
Altair Hydro Wand Kit Applications:
Acne treatment
Application of multi-vitamin treatments
Skin lightening
Deep moisturizing
Altair Hydro Wand Kit Features:
Choice of two tip configurations (12 mm, 19 mm)
Smooth, Fine and Medium grit surface options
Advanced HydroSerums kit
2 Hydro collection canisters & stand
Small round brush & brass brush
Flexible tubing
Vacuum stem assembly
Interested in adding the Altair Hydro Wand Kit to your practice? The Hydro Wand Kit is the perfect addition to any busy cosmetic practice looking to add safe and effective anti-aging treatments to it's service offerings.

SunrayLaser.com has amazing deals on used Hydro Wand Kits from Altair with savings that are up to 60% off the original price! See for yourself how much you can save on high quality skin resurfacing equipment like the Hydro Wand Kit from Altair and used laser equipment when you buy from SunrayLaser.com.

SunrayLaser.com has used Altair Hydro Wand Kits for sale at prices that are up to 60% off the new retail cost.  If you are looking for pricing information on an affordable pre-owned Hydro Wand Kit, fill out the contact form below and we'll send you a free, no obligation quote.

ss