Saratoga Technologies Ultrapeel Pepita System For Sale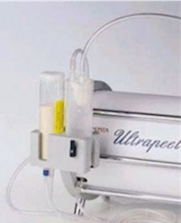 The Saratoga Technologies Ultrapeel Pepita System is a powerful skin resurfacing system that delivers a wide range of aesthetic and para medical procedures. An innovative non-invasive tool, the system uses a controlled flow of inert sterile micro crystals that are vacuumed across the skin to remove dead and damaged skin cells.
The Ultrapeel system delivers safe and effective skin exfoliation treatments through a completely sterilized and disposable delivery system. The incredibly reliable system features an anti-clogging system with light and easy to use accessories for smooth operation.
The highly durable Ultrapeel system is suitable for a variety of applications, including wrinkle reduction and skin smoothing, and removal of acne scars and hyperpimentation. The system also delivers effective pre-treatments for laser and chemical peels.
Saratoga Technologies Ultrapeel Applications:
Face and body peels
Skin rejunvenation
Dry, oily, dull, congested & blemished skin
Open pores
Wrinkles
Acne
Scars
Hyper pigmentation & actinic cheratosis
Stretch marks
Pre-treatment for laser and chemical peels
Saratoga Technologies Ultrapeel Features:
Power Supply Voltage: 110 and 220 V, single phase
Frequency: 50/60 Hz
Power absorption: 300 VA
Suction power: form 0.2 to 0.7 bar (at sea level)
Abrading media: high purity medical grade corundum powder
Dimensions: 30x30x45cm
Weight: 18kg/39 lb
Patented 45 degree V shaped light plastic tips
Patented disposable sealed waste bottle
Patented disposable sealed & sterile clean crystals bottle
Equipped with no clogging system
Adjustable power features
External compressor connectivity
SunrayLaser.com is an authorized reseller of the Saratoga Technologies Ultrapeel. Interested in adding the Saratoga Technologies Ultrapeel to your practice? The Saratoga Technologies Ultrapeel is the perfect addition to any busy cosmetic practice looking to expand its service offerings to include a variety of laser treatments, including hair removal and acne treatment.

SunrayLaser.com has amazing deals on used Saratoga Technologies Ultrapeel laser systems with savings that are up to 60% off the original price! See for yourself how much you can save on high quality laser systems like the Ultrapeel and other used laser equipment when you buy from SunrayLaser.com.

Looking for pricing information on a pre-owned Saratoga Technologies Ultrapeel? Please fill out the contact form below and we'll send you a free, no obligation quote.

ss