Saratoga Technologies Dualmax Laser System For Sale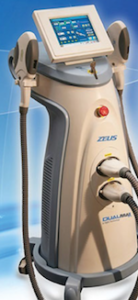 The Saratoga Technologies Dualmax laser system is an intense pulsed light system that delivers 80,000 to 100,000 pulses at an affordable cost per pulse. With unique water cooled handpieces that go down to -4C, the Dualmax offers maximum comfort for the client and optimum effectiveness.
The Dualmax was designed with advanced software that makes it easy to switch between handpieces and adjust settings to customize treatments to suit virtually all skin types. The system is perfect for hair removal and treatments to remove pigmentation, cutaneous lesions ands scars, vascular lesions and acne.
With a fast repetition rate, the Dualmax lets users choose a pulse rate as high as 10 pulses per second, making it easy to provide a more comfortable treatment with faster treatment times. The reliable system comes with two crystal-tip handpieces with 12mm x 30 mm and 15mm and 50mm spot sizes for safe, effective face and body treatments.
Saratoga Technologies Dualmax Applications:
Hair removal (skin types I-V)
Pigmentation
Cutaneous sessions and scars
Vascular lesions
Acne
Saratoga Technologies Dualmax Features:
Wavelength: 420-1200nm
Filters: 430 nm, 5300nm, 640nm, 690nm (optional)
Energy density: 10-60J/cm2
Spot size: 12x30mm and 15x50mm
Pulse reputation rate: 0.2Hz to 10Hz
Pulse duration: 0.5-15ms
Pulse delay: 1-50ms
Pulses: 1-15 pulses
IPL peak power: 2000W
Electrical requirements: 100-140VAC, 20A max, 50/60Hz
Net weight: 45 kg
Dimensions: 54cm x 50cm x 118 cm
8.4 true color LCD Touch Screen
Continous saphhire crystal contact cooling (-4C to 2C) (water cooled)
User friendly software and parameter selection
Large and small spot size handpieces suitable for a variety of face and body treatments
Handpieces designed to last for 80,000-100,000 pulses
FDA, CE compliant
Comfortable, ergonomic design
SunrayLaser.com is an authorized reseller of the Saratoga Technologies Dualmax laser system. Interested in adding the Saratoga Technologies Dualmax to your practice? The Saratoga Technologies Dualmax is the perfect addition to any busy cosmetic practice looking to expand its service offerings to include a variety of laser treatments, including hair removal and acne treatment.

SunrayLaser.com has amazing deals on used Saratoga Technologies Dualmax laser systems with savings that are up to 60% off the original price! See for yourself how much you can save on high quality laser systems like the Dualmax and other used laser equipment when you buy from SunrayLaser.com.

Looking for pricing information on a pre-owned Saratoga Technologies Dualmax? Please fill out the contact form below and we'll send you a free, no obligation quote.

ss