DermaWave Mesotherapy Laser Machine For Sale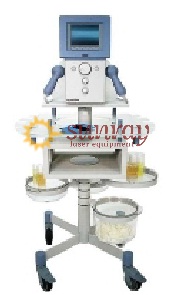 The DermaWave eliminates cellulite without the pain of traditional treatments. This system provides a different take on mesotherapy. Regular mesotherapy machines use needles that jab and leave you sore. A combination of lasers, massage, and gel melts away the fat cells that cause cellulite.
Simply apply the gel to the area and rub with the included hand piece. In as little as 15 treatments, you will see results. The DermaWave is a revolutionary machine that painlessly and quickly treats problem areas. Relief is only a few short treatments away with the DermaWave machine.
DermaWave Mesotherapy Applications:
Reduces Cellulite
Plumps Wrinkles
Smooths Dimpled Skin
DermaWave Mesotherapy Equipment Applications:
15 Applicators of Vaying Sizes
4 Informational CDs and Manuals
Monitor Stand and Cover
Cutting Edge Mesotherapy Technology
Grounding Pads
Weight: 90 lbs
Protective Eyewear
SunrayLaser.com carries quality refurbished laser equipment including the DermaWave Mesotherapy. Our team of expert technicians not only evaluate the quality of the products we carry but we make sure they are ready to use once purchased and installed in your place of practice. This reconditioned device is no exception. We have calibrated it to fit today's standards of safety and effectiveness.

Have questions? No worries, our device specialists are just an email away. Feel free to get in touch with us using the contact form below and we would happy to assist you. Inquiries on product specifications and price quotes are most welcome.

ss