Aspen Summit Series Laser System For Sale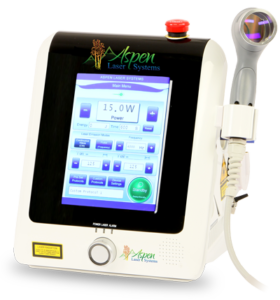 The Aspen Summit Series laser system is a highly versatile and portable system that provides the power needed to perform a variety of therapeutic and surgical laser procedures. With a maximum adjustable power output of up to 18 watts, the Aspen Summit Series laser is the ideal choice for many different types of medical practices. 
The Aspen Summit Series features a user friendly touch screen design and software, making it easy to change treatment protocols. Simply change the probe and switch to a different treatment option on the screen, and the laser is ready to go.
A highly portable laser system option, the Aspen Summit Series is lightweight and easily transportable for easy movement between treatment rooms. The system also comes with a durable wheeled transport case, allowing for comfortable and safe transport from one location to another.
Aspen Summit Series Applications:
Tissue damage
Nail fungus
Simple surgical procedures (veterinary)
Aspen Summit Series Features:
Available configurations: 7 watt, 10 watt, 15 watt, 18 watt
GaAlAs Diode Laser
Wavelength: 980nm
Operation modes: Continuous Wave (CW) and Pulse
Pulse duration: 10μs-3s
Repetition rate: 0.2Hz-20KHz
Fiber connector: SMA905 Connector
Pilot beam: Red Diode Laser Of 635nm, Power<5mW
True color touch screen
Voltage/Current rating: 110/220 VAC, 5A , 50/60 Hz
Dimensions: 215(W) x 245(L) x 315(H) mm
Weight: 9lbs
Ergonomic therapy handpiece & holder
Fiber optic cable: 400uM
Mobile carrying case
SunrayLaser.com is an authorized reseller of the Aspen Summit Series laser system. Interested in adding the Aspen Summit Series to your practice? The Aspen Summit Series is the perfect addition to any busy cosmetic practice looking to expand its service offerings to include a variety of therapeutic and surgical laser treatments.

SunrayLaser.com has amazing deals on used Aspen Summit Series laser systems with savings that are up to 60% off the original price! See for yourself how much you can save on high quality laser systems like the Summit Series and other used laser equipment when you buy from SunrayLaser.com.

Looking for pricing information on a pre-owned Aspen Summit Series? Please fill out the contact form below and we'll send you a free, no obligation quote.

ss