Aspen Pinnacle Pro Laser System for Sale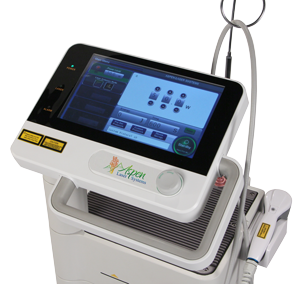 The Aspen Pinnacle Pro laser system, the flagship system in the Aspen line, was designed for maximum versatility and power. Available as a 30 watt, 45 watt or 60 watt system, the Pinnacle Pro was designed to treat a variety of health conditions and can perform both therapeutic and surgical procedures.
Designed to be easy to use and flexible, the Pinnacle Pro features an easy-to-use touch screen interface that makes it easy to change treatment protocols. Just on switch the probe, select a new treatment option, and the system is ready to treat just about any patient condition.
The Pinnacle Pro features a fully adjustable touch-screen interface and ergonomic handpiece for maximum comfort. The system is also lightweight and easy to move for maximum portability. Regardless of how many patients you have each day, the Pinnacle Pro delivers the consistent level of power and functionality needed to achieve incredible results quickly and effortlessly.
Aspen Pinnacle Pro Applications:
Pain relief
Inflammation reduction
Treatment for toenail fungus
Minor Podiatric and Veterinary surgical procedures
Aspen Pinnacle Pro Features:
Available configurations: 30 watts, 45 watts and 60 watts
Operation modes: Continuous Wave (CW) and Pulse
Pulse duration: 10μs-3s
Repetition rate: 0.2Hz-20KHz
Fiber sizes: 400 microns
Fiber connector: SMA905 Connector
Pilot beam: Red Diode Laser Of 635nm, Power<5mW
Control mode: True Color Touch Screen
Voltage/Current rating: 110/220 VAC, 5A , 50/60 Hz
Ergonomic therapy handpiece
Fiber optic cable: 400uM
Portability
SunrayLaser.com is an authorized reseller of the Aspen Pinnacle Pro. Interested in adding the Aspen Pinnacle Pro to your practice? The Pinnacle Pro is the perfect addition to any busy cosmetic practice looking to expand its service offerings to include a variety of therapeutic and surgical laser treatments.

SunrayLaser.com has amazing deals on used Aspen Pinnacle Pro laser systems with savings that are up to 60% off the original price! See for yourself how much you can save on high quality laser systems like the Pinnacle Pro and other used laser equipment when you buy from SunrayLaser.com.

Looking for pricing information on a pre-owned Aspen Pinnacle Pro? Please fill out the contact form below and we'll send you a free, no obligation quote.

ss