Ulthera Laser Machine for Sale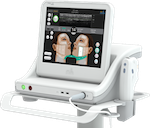 The Ulthera laser machine offers painless fat reduction therapy that is completely non-invasive and safe. The Ulthera has a 650 nm soft laser that is designed to get down deep into fat cells, breaking their membrane and breaking down the fat inside, which is then naturally eliminated by the body. The process also stimulates collagen deep in the subcutaneous dermal tissue, making skin tighter and smoother after treatment.
In addition to fat reduction, the Ulthera also contains RF heads for treatment for wrinkles on the face and neck and options for larger areas of skin smoothing and rejuvenation. The Multipolar RF accessories for the Ulthera promote blood circulation, encourage collagen production and provide tightening effects to reduce the signs of aging.
The Ulthera comes with 1 large laser set for smaller areas of the arms and face, and 10 laser large laser sets for larger areas, including the stomach, waist and thighs. This allows for more focused treatment for the fastest, most impressive results.
Ulthera Applications:
Skin smoothing and tightening
Treatment for wrinkles & fine lines
Fat reduction
Ulthera Features:
Wavelength: 650 nm
Laser type: Diode
Output frequency: 1HZ to 1000 Hz adjustable
Mode: Pulse, continuous
Input current: 240V/110V AC
Easy to use touchscreen
The Ulthera laser is the perfect addition to any growing practice. The system is easy to operate, delivers fast results and the treatments are completely pain-free to clients. It's a smart investment in the long term success of any cosmetic business.

Interested in adding the Ulthera laser system to your practice? The Ulthera is the perfect addition to any busy cosmetic practice that wants to expand its service offerings to include the most in-demand services. SunrayLaser.com has amazing deals on used Ulthera laser equipment with savings that are up to 60% off the original price! See for yourself how much you can save on high quality used laser equipment when you buy from SunrayLaser.com.

Looking for pricing information and other details about our selection of preowned Ulthera machines? Please fill out the form below and we'll provide a fast and free, no obligation quote. It's an easy and no-risk way to learn more about this outstanding line of cosmetic lasers.

ss