Osyris Medical Lipotherme Laser Machine For Sale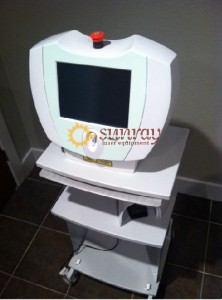 Laser-assisted lipolysis took a huge step forward in power and effectiveness when Osyris Medical introduced its Lipotherme laser to the international market. As we age, diet and rigorous exercise lose their ability to overcome our genetic predisposition to accumulate undesirable localized fat deposits. Lipotherme represents years of extensive clinical research and development to bring to market an effective means to combat and correct the effects of aging.
Lipotherme relies upon the heat generated by its laser to emulsify fat, boosting the body's ability to sweep away the unwanted material. Heat from the laser has a fortuitous dual effect, however, because the heat also tightens the skin, rejuvenating one's appearance. Wrinkles and dimples shrink or disappear following Lipotherme therapy.
The Lipotherme laser is FDA approved for laser lipolysis. The process is safe, minimally invasive, and requires a very short recovery period.
SunrayLaser.com stocks an assortment of outstanding previously owned cosmetic laser devices, including the portfolio produced by Osyris. The Lipotherme is currently on sale at an extraordinarily low price for a machine in such high demand. Please contact us as quickly as possible to receive your free price quote or further information about Lipotherme or Lipocontrol.
Osyris Medical Lipotherme Applications:
Laser-assisted lipolysis
Skin tightening
Collagen regeneration
Circumferential reduction
Body contouring
Osyris Medical Lipotherme Features:
Laser: red diode 980 nm
Output: one to 25 watts
Pulse duration: θ (continuous)
Fiber: 600 µm
Variable power control
Cooling system: Peltier and air
Electric power: 110-240 VAC, 50 to 60 Hz
Weight: 33 pounds
Dimensions: 17 by 17 by 14 inches
SunrayLaser.com scours the market for Osyris Medical aesthetic treatment devices such as the Lipotherme. Products so recently introduced to the field rarely receive such high praise from demanding medical practitioners.

Rest assured that the highly competent laser device technicians at Sunraylaser.com have thoroughly tested and refurbished every Osyris Medical Lipotherme prior to offering the machine for sale.

Doctors and spa clinicians around the world have discovered the breakthrough performance of Lipotherme for laser-assisted lipolysis. We'd love to discuss the field studies in support of the system and how a reconditioned Lipotherme can help your business or practice grow to new heights.

Getting in touch with us is simple. Just fill in the form below. One of our expert representatives will contact you quickly, fully prepared to discuss prices or provide information on any of the outstanding Osyris Medical products.

ss