Lumenis LightSheer ET & XC Laser Machine for Sale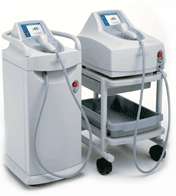 The Lumenis LightSheer provides state-of-the-art technology and smart functionality for completely permanent and safe hair removal and skin treatments.  Highly effective for all skin types, the LightSheer line of lasers are consistently top-performers in cosmetic skin treatments. With clinically proven results and thousands of machines in circulation, LightSheer lasers are a top choice for those wanting to add a high-performing, affordable laser system to their cosmetic practice.
The innovative LightSheer laser design includes an Advanced ChillTip™ handpiece, which offers constant cooling to the skin during treatments for the ultimate in patient comfort.  For those looking to maximize their efforts by seeing more patients, LightSheer laser systems offer powerful laser technology that delivers the most concentrated amount of energy in the shortest amount of time.  You'll can see more patients throughout the day without sacrificing performance or patient comfort.  LightSheer lasers are available in the full-size LightSheer XC style, or the portable, LightSheer ET, a highly functional table-top laser treatment option.
LightSheer laser systems include powerful AIGaAs Diode Array lasers, the platinum standard in hair removal and skin treatment laser technology.  The LightSheer XC has a spot size of 9mm (square), while the LightSheer ET has a smaller spot size of 12 mm (square) for smaller treatment areas.  Thanks to their powerful functionality and durable design, LightSheer hair removal laser systems are renowned for being safe and easy to use, and have quickly become one of the most popular photoepilation systems in the world.
Lumenis LightSheer ET & XC Applications
Hair removal
Treatment of pseudofolliculitis barbae (PFB)
Removal of superficial leg veins
Removal of epidermal pigmented lesions
Lumenis LightSheer ET & XC Features
ChillTip handpiece provides constant cooling of the skin during treatment
Suitable for all hair and skin types, including tanned skin
Repetition rate: up to 2 Hz
Pulse Width: 5-400 Optipulse
Fluence: 10-100 J/cm (squared)
800 nm Wavelength
LightSheer XC weight: 114 lbs, dimensions: 14.5 x 15 x 38 in.
LightSheer ET weight: 60 lbs, dimensions: 17 x 20.5 x 15 in.
Cart weight (optional for LightSheer ET): 47 lbs
Voltage: 100-120 VAC, 12 A, 200-240 VAC, 6 A, 50/60 Hz
Plugs right into a standard outlet – no additional power required
The LightSheer isn't just effective, but incredibly efficient as well.  The laser system provides highly concentrated energy and speed, resulting in shorter patient treatment times.  It's also safe for even the darkest skin pigments.  The LightSheer XC provides the highest level of energy, allowing for the fastest coverage rate – perfect for a busy, growing practice!

Interested in adding a Lumenis LightSheer to your cosmetic treatment options?  SunrayLaser.com has great deals on used Lumenis LightSheer laser equipment with savings that are up to 60% off the original price!  See for yourself how much you can save on used laser equipment when you buy from SunrayLaser.com.

Looking for pricing information and other details about our selection of pre-owned Lumenis LightSheer equipment?  Please fill out the form below and we'll provide a fast and free, no obligation quote.  It's an easy and no-risk way to learn more about this outstanding line of lasers.

ss