Fotona QX MAXX Laser Machine for Sale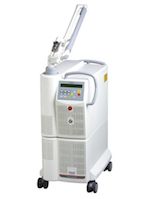 The Fotona QX MAXX laser machine offers the most advanced laser technology available, with maximum performance for removing a large range of tattoo inks, pigmented lesions and a wide variety of aesthetic services. The QX MAXX laser machine's unique single-pulse laser technology has proven itself more effective at complete tattoo removal then many of the multi-pulse lasers on the market. Thanks to this powerful single-pulse Q-switched technology, you get larger spot treatment areas and more effective removal of deeply ingrained color pigments.
The powerful QX MAXX utilizes an optimized wavelength selection in order to target the widest range of pigments. The system includes four treatment wavelengths in one to remove dark pigments, remove lighter pigments and vascular lesions and to get rid of deeply embedded greens, blues and purple inks as well.
By offering the best combination of powerful wavelengths, the QX MAXX by Fotona is the ideal choice for treating a variety of skin lesions and removing completely detailed, deeply colored tattoos. The QX MAXX also supports Fotona's premier Accelera technology, offering powerful treatment for laser hair removal, acne treatments and other common aesthetic treatments.
Fotona QX MAXX Applications:
Tattoo removal
Removal of dark lesions & hyper-pigmentation
Hair removal
Acne treatment
Fotona QX MAXX Features:
Powerful treatment for all pigmented lesions and tattoos
Highest single-pulse technology for larger spot size treatments
Consistent laser beam profile results in safer, more even distribution of laser energy
Reduced risk of burning, tissue damage and scarring
Highly effective, even with the deepest colors
More effective treatments means fewer visits overall
Optimized wavelengths results in bigger range of pigments to target
Patented OPTOflex technology produces a completely homogenous beam profile for the most consistent laser delivery
Ergonomic design lets the user manipulate the handpiece naturally for enhanced treatment maneuverability
Built to last with better system performance and a longer lifetime than other systems
The Fotona QX MAXX makes it possible to add a full range of skin treatments and aesthetic services to your practice, including tattoo removal, removal of freckles and pigmented lesions, and other popular cosmetic services.

Interested in adding the Fotona QX MAXX laser system to your tattoo removal practice? SunrayLaser.com has great deals on usedFotona QX MAXX laser equipment with savings that are up to 60% off the original price! See for yourself how much you can save on high quality used laser equipment when you buy from SunrayLaser.com.

Looking for pricing information and other details about our selection of pre-owned Fotona QX MAXX equipment? Please fill out the form below and we'll provide a fast and free, no obligation quote. It's an easy and no-risk way to learn more about this outstanding line of tattoo removal lasers.

ss