Focus Medical NaturaLase Laser Machine for Sale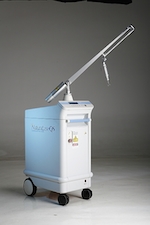 The Focus Medical Naturalase laser machine features the highest energy Q-switched system in the world, offering completely safe, highly effective tattoo removal with less complications.
Made in the US by the experts at Focus Medical, the Naturalase laser machine is a highly versatile option for practices that want to offer a variety of treatments. Perfect for tattoo removal, the Naturalase laser machine is also ideal for a variety cosmetic purposes, including treatment of common skin conditions, removal of skins lesions and permanent hair removal.
The NaturaLase offers advanced power and unparalleled beam technology to deliver impressive results in less time. Suitable for all skin types, the NaturaLase laser system offers the highest amount of energy output with four separate wavelengths. This allows for optimum results on multi-colored tattoos and even dark sun spots without the harsh side effects of other laser systems.
Focus Medical NaturaLase Applications:
Removal of traumatic and amateur tattoos
Treatment for pigmented lesions, sun damage and age spots
Melasma, common birthmarks and vascular lesions
Seborrheic keratosis
Lentigines
Hair removal
Focus Medical NaturaLase Features:
Laser source: Nd:YAG
Delivery system: Articulated arm
Dimensions: 27" x 17" x 50"
Weight: 275 lbs.
Power requirements: 110, 200 220 or 240 VAC
Beam: Zoom 3-15 mm handpiece with collimated beam
Safe & effective on all skin types
Made in the US by leaders in aesthetic laser technology
Utilizes large spot and flat top beam for more effective energy distribution
Better penetration and faster treatments with less risk for injury to the skin
Purchase a Focus Medical NaturalLase Laser Machine for Sale
Interested in adding the Focus Medical NaturaLase laser system to your practice? The NaturaLase is the perfect addition to any busy cosmetic practice that is interested in expanding service offerings to include the latest popular services. SunrayLaser.com has amazing deals on used Focus Medical NaturaLase laser equipment with savings that are up to 60% off the original price! See for yourself how much you can save on high quality used laser equipment when you buy from SunrayLaser.com.

Looking for pricing information and other details about our selection of preowned Focus Medical NaturaLase equipment? Please fill out the form below and we'll provide a fast and free, no obligation quote. It's an easy and no-risk way to learn more about this outstanding line of cosmetic lasers.

ss