Edge Systems Corporation Hydrafacial System Laser Machine For Sale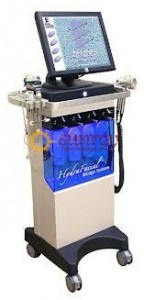 Clinical studies have shown that the Hydradermabrasion system developed by Edge Systems is superior to intense pulsed light lasers for skin rejuvenation therapy. The only means to provide your patients a full Hydradermabrasion treatment is with your own HydraFacial System Tower.
The HydraFacial methodology provides your patients a non-ablative option for aesthetic treatments. Subjects leave the office feeling refreshed, rather than dreading downtime or experiencing discomfort. When they discuss the procedure with friends and colleagues, they will deliver referrals to your door.
HydraFacial delivers multiple therapies in a single session. Industry analysts consider it the market's most comprehensive tool. The patented HydroPeel tip infuses nutrient-rich solutions and cleanses deep into the dermis, lifting out blackheads, whiteheads and sebum. Hydradermabrasion thoroughly exfoliates during multiple passes. The final phase of the therapy rehydrates and infuses powerful antioxidants into the skin.
SunrayLaser.com has an excellent refurbished HydraFacial System in stock and certified by our expert technicians. We are currently offering an incredible deal on the entire system. Please contact us today to talk shop and receive a quote with no further obligation on this well-supported device.
Edge Systems Corporation HydraFacial System Applications:
Photo damage
Fine lines and wrinkles
Hyperpigmentation
Moisturizing dehydrated areas
Comedonal acne
Oily skin correction
Vitamin infusion
Skin rejuvenation
Edge Systems Corporation HydraFacial System Features:
Touchscreen with programmed protocols
HydroPeel Handpiece
Hydradermabrasion diamond tip
Vacuum therapy
Cartridge handpiece with wet dermabrasion tools
SunrayLaser.com is the web's premier source for refurbished Edge Systems HydraFacial equipment. We have earned a reputation for delivering high-quality previously owned aesthetic medical devices to an informed customer, and we intend to maintain that reputation.

HydraFacial has been endorsed by Mrs. America and featured on medical and beauty segments during shows on ABC, CBS, Fox and NBC. Edge Systems' commitment to marketing has no peer in the industry; the benefits of their approach accrue to the physicians and spas who capitalize on the company's branding to attract a new client base.

HydraFacial is registered with the U.S. Food and Drug Administration and is ISO 13485 compliant. Certified technicians have painstakingly refurbished every HydraFacial system in the SunrayLaser inventory. We guarantee that all equipment will perform to the product's original specifications.

Let's discuss the ways in which the HydraFacial can enhance your practice. Once you fill in the brief form below, one of our senior aesthetic equipment consultants will get in touch. Please remember to ask for a price quote!

ss