Cynosure SmartLipo MPX Laser Machine For Sale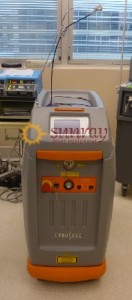 The Cynosure Smartliop MPX is a laser body sculpting workstation that is the global leader in laser assisted body contouring. The Nd:YAG laser is capable of emitting two wavelengths of laser radiation in 1064 nm and 1320 nm. These wavelengths can be used together or independently for a top quality liposuction clinical result.
The Smartlipo system is very popular and is often asked for by name because it offers faster and more comfortable body contouring than traditional liposuction and has a fraction of the recovery time.
Cynosure Smartlipo MPX Applications :
Reduced liposuction treatment time
Tissue tightening in the treated area through immediate coagulation of the small blood vessels
Faster recovery
Less surgical trauma
Fast water absorption
Local anesthesia
Less bleeding, minimal scarring and bruising
Small incision of 1 – 2 mm with no stitches
Treats cellulite
Treats stretch marks
Cynosure Smartlipo MPX Features:
1064 nm wavelength
1320 wavelength
MultiPlex sequential firing of the two wavelengths for optimal results, better security and uniform treatment
Photomechanical and thermal effects blended for effective lipolysis and tissue coagulation
Faster treatment time with up to 46 Watts of Smartlipo MPX Blended Power
Wavelengths can be used separately or together for faster treatment time
ThermaGuide and SmartSense for safer motion control and reliable results
40Hz maximum repetition
12W or 20W pulse output
Red beam type
Small instrumentation
Electrical requirements of 230 VAC/16 A
37.4 inches high, 19.7 inches wide and 25.6 inches deep
Weighs 220 pounds
The Cynosure Smartlipo MPX treatment is perfect for small fat deposits, reduced bleeding, broad tissue heating, areas of skin laxity and bruising. The intelligent delivery system from SmartSense and ThermaGuide offer added protection and uniform energy delivery. SmartSense is the motion-sensing hand piece that delivers consistent laser energy. It stops firing with 0.2 of a second after the motion stops, but is ready to start again when the hand piece is moved again. ThermaGuide senses the temperature beneath the skin for safer results.

The procedure is suitable for treating the abdomen, inner and outer thighs, cheeks and jowls, batwings, arms, upper back, saddle bags, buttocks and lower back.

Sunraylaser.com carries refurbished SmartLipo MPX fit for your practice. Our knowledgeable team of servicemen is able to recondition laser equipment to good-as-new condition and this model we have in our inventory is no exception. For questions on price quote and product specifications you can fill out the form below and one of our expert product specialists will be in touch with you shortly.

ss