Cynosure Apogee Elite ELNL Laser Machine For Sale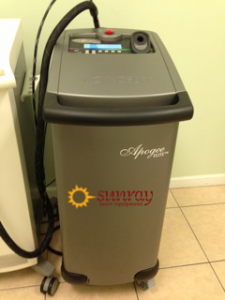 The laser technology that is available through the Cynosure Apogee Elite ELNL is revolutionizing the way both doctors and patients approach healing and skin rejuvenation. Through applying cutting-edge advances in laser capabilities and a direct concern for patients and doctors, Cynosure is able to consistently deliver products that produce outstanding results for each and every procedure. Cynosure is a leader in the industry of light-based aesthetic treatments for many reasons that go beyond the high-quality equipment that they manufacture.
They also pride themselves on comprehensive customer support and other types of medical equipment that have advanced the science behind a number of aesthetic treatments. Cynosure always works with doctors in order to help them expand their practice using leading equipment so that they can better meet the individualized needs of patients.
Cynosure Apogee Elite ELNL Applications:
Vascular lesion removal
Facial and leg vein removal
Pigmented lesion removal
Permanent hair reduction
Cynosure Apogee Elite ELNL Features:
A 755-nm wavelength
Additional 1064-nm Nd:YAG wavelength
Cryo 5 Chiller
High Yang lamp count
Convenient foot switch
Included operator eye wear
This machine provides safe, effective, and fast solutions for a broad range of aesthetic concerns for patients of all ages. It ensures deep epidermal penetration, creating in optimal results. Being able to perform multiple procedures using this single machine saves money and also allows anyone to expand the potential of their practice. The Elite allows for treatment of large areas of discoloration with ease. The laser being utilized is also designed around technology that has a high level of melanin absorption rates, resulting in treatments that provide a real impact that last for much longer that previous forms of this technology. The concentration of the laser allows doctors and practitioners make fewer passes, dramatically reducing the time needed for each and every treatment.

Putting the Elite to work in your practice is as simple as contacting SunrayLaser.Com. Our technicians work closely together to provide the best refurbished laser equipment available. Our reconditioned items are good as new and can be purchase at a fraction of the original price.

If you are interested in finding more about this product and our price range, please do not hesitate co use the contact form below to reach out to us, we'd be glad to assist you!

ss