Cynosure Affirm Laser Machine For Sale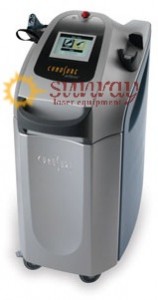 With the release of the Affirm Skin-Tightening Laser, patients have never had such advanced options for rejuvenation and healing. Developed by Cynosure, this sophisticated equipment delivers options through cutting-edge technology that is developed with confidence and experience. Cynosure is a leader in the industry thanks to their commitment to excellence when it comes to the equipment that they manufacture and the results that it is capable of delivering.

View Price

Their light-based aesthetic and medical treatment systems prioritize the concerns of the patient while making the job of the practitioner one that can be executed with ease. They work with leading research teams in order to develop equipment that is safe, effective, and affordable. They pride themselves on being able to offer doctors the ability to expand their practice and give patients more effective options that are tailored to meet their needs on every level.
Cynosure Affirm Applications:
Treatment for new or aged scars
Reduction in the appearance of wrinkles
Treatments related to issues with pigmentation
Reduction in skin irritation and redness
Complete facial resurfacing
Skin tightening
Cynosure Affirm Features:
A three-fold technological system using CAP, XLP, and targeting abilities
1,000 diffractive micro-pulses
A 10-mm spotting range
MultiPlex sequential emissions
Lowered consumables
Integrated design for single-person use
The results that are possible using the Affirm system come through its ability to target and heal skin at all layers. It addresses the deepest layers of tissue, affecting collagen structures that play a large role in determining skin's laxity. The ability of the equipment to impact coagulation of tissue also allows for patients to experience skin tightening that is clinically proven to enhance their tone and vibrancy. There is very little pain or discomfort that the patient experiences despite the fact that results can be achieved nearly 400 times faster using this technology.

Bringing your patients the leading-edge treatment when it comes to skin care only requires contacting SunrayLaser.Com. We carry refurbished units of the Cynosure Affirm laser machine and are available for delivery anytime. Our team of expert technicians have proven that no machines goes through them with it feeling and looking exactly like new. For questions about our products and their pricing you may use the contact form below and our attentive customer service associates will be in touch.

ss