Candela GentleMax Pro Laser System for Sale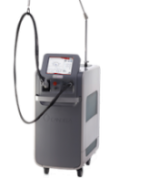 The Candela GentleMax Pro is a fast, reliable and versatile choice for aesthetic cosmetic professionals.  The GentleMax Pro is a dual wavelength laser system that combines the fastest Alexandrite laser (755nm) with a powerful Nd:YAG laser (1064 nm).  This results in a laser system that delivers the highest level of performance and safety when used in a variety of cosmetic procedures.
The GentleMax Pro produces outstanding results for hair removal and for the treatment of many common skin conditions, including the presence of spider veins and skin damage.  Designed to provide exceptional results without pain or scarring, the GentleMax Pro is a fast, powerful platform that gets amazing clinical results and offers outstanding benefits to both cosmetic professionals and their patients.
The GentleMax Pro offers the choice of two different cooling systems during treatment:  Air Cooling Compatible (ACC), for the highest flow rate at a controllable temperature, or Dynamic Cooling (DCD) for low-temperature cryogen delivery.  The system also features a Speciality Delivery System, perfect for smaller pigmented lesions and vascular lesions, offering a higher level of control and versatility than pervious systems.
Candela GentleMax Pro Applications:
Epidermal pigmented lesions
Age spots
Freckles
Sun damage
Spider veins
Vascular anomalies
Nail fungus
Telangiectatic matting
Telangiectasia on the face and legs
Pseudofoliculitis barbae/beard bumps
Candela GentleMax Pro Features:
Nd:YAG and Alexandrite laser
Wavelength: 1064 nm/ 755 nm
Repetition: Up to 10 Hz
Max delivered energy: 80 joules/53 joules
Pulse duration: 0.250-100ms
Spot sizes: 6mm, 8mm, 10mm, 12mm, 15mm, 18mm
Beam delivery: Lens-coupled optical fiber with hand piece
Pulse control: finger switch, foot switch
Dimensions; 107 cm H x 46 cm W x 69 cm D
Weight: 118 kg (260 lbs)
Electrical: 200-240 VAC, 50/60 Hz 30A, 4600 VA single phase
Advanced user interface with easy touchscreen access
Interested in purchasing the Candela GentleMax Pro? Adding the the Candela GentleMax Pro to your practice is an easy way to expand your cosmetic treatment offerings.  Adding new and in-demand services for your patients and providing the highest level of safe, pain free laser treatments with the Candela GentleMax Pro is an easy way to grow your business.

SunrayLaser.com has amazing deals on used Candela GentleMax Pro systems with savings that are up to 60% off the original price! See for yourself how much you can save on high quality skin resurfacing equipment like the Candela GentleMax Pro and other used laser equipment when you buy from SunrayLaser.com.

SunrayLaser.com has used Candela GentleMax Pro for sale at prices that are up to 60% off the new retail cost.  If you are looking for pricing information on an affordable pre-owned Candela GentleMax Pro, fill out the contact form below and we'll send you a free, no obligation quote.

ss