Aesthera Isolaz Pro Laser For Sale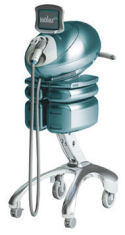 Just like the Aeshera Isolaz cosmetic laser machine, the Aesthera Isolaz Pro model is specifically designed for the treatment of acne and other skin conditions. This unique cosmetic laser system uses a proprietary combination of vacuum suction to achieve deep pore cleansing and broadband light to target the bacteria that causes acne. The result is a cosmetic laser machine unlike any other that can deliver results faster and more efficiently than other methods.
SunrayLaser.com carries a complete inventory of quality pre-owned cosmetic laser machines, and we have the Aesthera Isolaz Pro laser system for sale at the lowest price. Contact us right now for a no obligation price quote or if you have any questions about this model.
Aesthera Isolaz Pro Laser Machine Applications:
Skin rejuvenation
Deep pore purification
Acne treatment
Aesthera Isolaz Pro Laser Equipment Features:
Optimized treatment tips
Swivel touch screen
iMP and iTM technology
Proven in clinical trials to be superior for acne treatment
Dimensions: 13″ x 16.5″ x 15″
Weight: 45 lbs.
Power supply: 115V/230V with single phase grounded outlet
When you buy a used Aesthera Isolaz Pro laser machine from SunrayLaser.com you will get a system that is easy to transport between treatment rooms or even to different office locations. This system features a swivel touch screen display and is the premier acne treatment system on the market today.

If you are interested in getting a low price quote on pre-owned Aesthera Isolaz Pro laser equipment, simply fill out the contact form below. We are happy to provide cosmetic laser machine pricing information on any model in our inventory with no obligation at all.

ss