UltraShape Laser Machine for Sale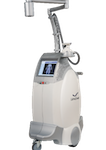 The UltraShape laser machine is a popular option for highly effective body contouring in all of the major trouble spots, including the stomach, thighs and sides. This powerful yet safe method of fat reduction and body sculpting makes the UltraShape a highly popular choice for cosmetic professionals.
The UltraShape destroys fat cells by letting out acoustic waves of ultrasonic energy which focus on targeted areas of the body. This energy, which transmits pulsed ultrasound waves, allows the operator incredible temperature control. This consistency in control allows for the most effective fat elimination in the shortest amount of time.
Clinically proven to reduce fat deposits and overall body circumference, the UltraShape laser machine is a smart addition to any cosmetic practice that wants to stay competitive in an in-demand business. With the UltraShape, patients can enjoy a simple, painless procedure that results in long-lasting results after just a few weeks. There's no downtime, no bruising or swelling – just firm, smooth skin.
UltraShape Laser Machine Applications:
Body contouring in the abdomen, thighs and flanks
UltraShape Laser Machine Features:
Ultrasound operation frequency: 200 ± 30 KHz
Input voltage: 110-120 V or 200-240 V, 50/60 Hz
RF – Vacuum Frequency: 0.8, 2 MHZ, Power: up to 50W
Certifications: CE mark, CSA, CB Scheme
Standards: IEC 60601-1, IEC 60601-1-2
Treatment times between 1-2 hours
No anesthesia or patient recovery time required

Interested in adding the UltraShape laser system to your practice? The UltraShape is the perfect addition to any busy cosmetic practice that wants to expand its service offerings to include the most in-demand cosmetic treatments. SunrayLaser.com has amazing deals on used UltraShape laser equipment with savings that are up to 60% off the original price! See for yourself how much you can save on high quality used laser equipment when you buy from SunrayLaser.com.

Looking for pricing information and other details about our selection of preowned UltraShape equipment? Please fill out the form below and we'll provide a fast and free, no obligation quote. It's an easy and no-risk way to learn more about this outstanding line of cosmetic lasers.

ss