Rohrer Aesthetics Phoenix-15 CO2 Laser System for Sale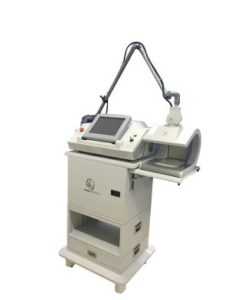 The Rohrer Aesthetics Phoenix-15 CO2 Laser System is a powerful, multi-purpose system that delivers a wide variety of dermatological and plastic surgery procedures. Highly portable and featuring an attractive price point, the Phoenix-15 CO2 is the ideal swift-scan system for any cosmetic practice. It's a great solution for physicians with more than one office location, and for physicians who want to share a system.
The Phoenix 15-CO2 delivers powerful laser light and heat that helps to smooth wrinkles, reduce pigmented areas, reduce fine lines and more. Treatments with the Phoenix 15-CO2 laser system also stimulates deeper cells in the skin, resulting in improved collagen regeneration and an overall improvement in skin quality. The multi-purpose laser also includes an incisional handpiece for blehpararoplasty, a popular and safe solution for lifting and removing excess skin around the upper and lower eyelids for an instant lift.
In addition to being highly functional and affordable, the Phoenix 15-CO2 is also safe and comfortable to operate. The versatile system features a scanner treatment size that is adjustable from 5mm up to 30mm, making it easy to use on smaller areas like the hands and face, and larger areas of the body as well.
Rohrer Aesthetic Phoenix-15 CO2 Laser System Applications
Smoothing of fine lines
Coarse wrinkle reduction
Elimination of skin tags and warts
Scar reduction
Pigmention reduction
Lifting and removal of excess skin around the eyelids
Rohrer Aesthetic Phoenix-15 CO2 Laser System Features
Versatile multi-use handpiece
Micro-Thermal zone scanner handpiece
Adjustable scanner treatment size (5mm-30mm)
Zone scanner mount keeps scanner in place for longer, larger treatments
No disposables
Dissembles into multiple modules for easy transport
Comes with operator eyewear and patient eyewear
Manual, power cord, key and remote interlock included
SunrayLaser.com is an authorized reseller of the Rohrer Aesthetic Phoenix-15 CO2 Laser System. Interested in adding the Rohrer Aesthetic Phoenix-15 CO2 to your practice? The Rohrer Aesthetic Phoenix-15 CO2 Laser System is the perfect addition to any busy cosmetic practice looking to expand its service offerings to include a variety of laser treatments, including wrinkle reduction and removal of hyper pigmented areas.

SunrayLaser.com has amazing deals on used Rohrer Aesthetic Phoenix-15 CO2 Laser System with savings that are up to 60% off the original price! See for yourself how much you can save on high quality laser systems like the Phoenix-15 CO2 and other used equipment when you buy from SunrayLaser.com.

Looking for pricing information on a pre-owned Rohrer Aesthetic Phoenix-15 CO2 Laser System? Please fill out the contact form below and we'll send you a free, no obligation quote.

ss